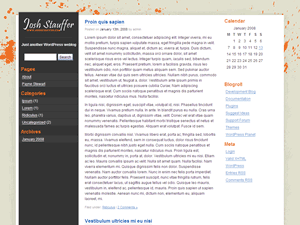 I know you are thinking… you did what? But it's true. I have reached a milestone in my life. I just created my first ever WordPress theme. I am also very pleased with how it turned out. It took me about 8 hours to complete but most of that time was spent waiting on the trial version of Photoshop CS3 to download and fixing an annoying CSS issue. I am sure there will be some bugs that I need to fix but so far, so good.
I would like to thank Small Potato for his very basic tutorial titled "So you want to create WordPress themes huh?" If you are new to WordPress or just want a fresh, clear view of stepping through a theme then I suggest you start with his tutorial.
I would also like to thank Photoshop CS3 for making my first theme beautiful. I couldn't have done it without you. Wink.
Next on the agenda:
Validatation of XHTML & CSS
Checking design in different browsers with help from IE NetRenderer
Finding and fixing any bugs